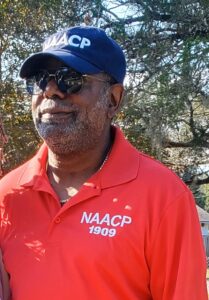 It is with great pleasure that I welcome you to the South Brevard Branch NAACP website.  We hope that you find our website educational and informative.
We will continue the fight and struggle for equality, to rid discrimination, racism and social injustices.
We will continue to promote and support our civil rights, legal fights for Equal Opportunity.
Branch meetings are held on the 2nd and 4th Monday's of each month. Meetings are located at Joseph N. Davis Community Center – 2547 Grant St, Melbourne @7 pm.
Please enjoy our website and consider joining the  NAACP continuous struggle for justice and equality!
Bennie Jackson, Jr President